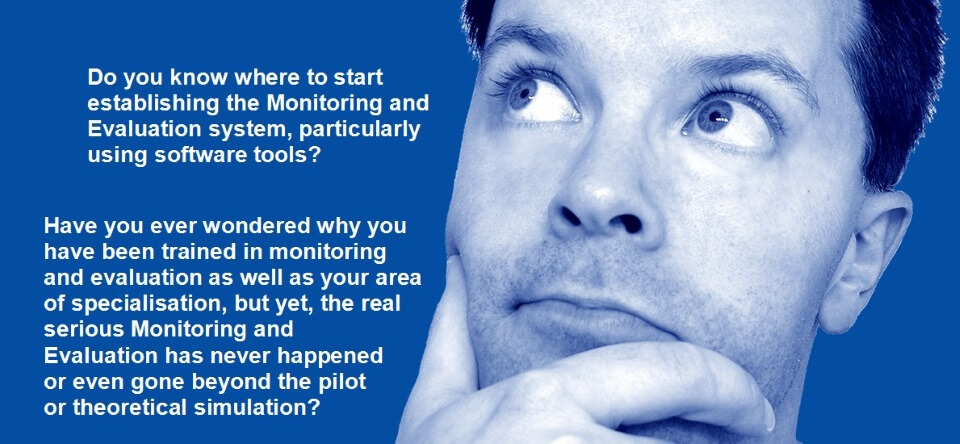 Training and Mentoring Program
Successful programs and projects are not something that simply happens, but rather are a pre-planned series of activities and events. Subsequently, management must periodically monitor selected indicators and measure performance during implementation so they can make timely adjustments where necessary, as well as determine the extent to which the program or project achieved its objectives. To do monitoring, evaluation and quality control effectively, skilled understanding and application of the probability theory to sampling and statistical analysis is required.
At various stages in their life cycle, all programs and projects are required to be monitored and their performance assessed, but relatively few individuals possess the technical capability to do so. The training and mentoring programs are designed to address ensuring smoother operationalisation of the implemented M&E/MIS System, while assisting with continued capacity building progress and evolvement by organisation and stakeholders, with initial assistance from trainer, followed by continued self-development, improvement and harmonisation of the implemented M&E/MIS system and processes at the more advanced level.
The M&E/MIS training and mentoring program shall introduce participants to the overall philosophy, concepts and best practice approaches in Result Based Planning, Monitoring and Evaluation; provide understanding of the M&E/MIS Framework and M&E/MIS Manual as well as some "quick & easy" use of the statistical tools and techniques to collect data with the Organisation M&E/MIS Software, and assess the results.
Capacity development in organisations should be a continuous testing of experiences and the transformation of those experiences into knowledge. Real learning happens when new experiences and knowledge are disseminated throughout the organisation, and tested to determine their value-added properties. The true realisation and success of the M&E/MIS system shall occur in organisations when the leadership recognises the importance of continual self-reflection and drives a movement to focus on positive organisational change. New knowledge is woven into the fabric of an organisation if it helps an organisation to deliver its core business objective outcome.
It is essential that the training and mentoring program on the project is focused on both—pre- and post-implementation—to ensure the success of the M&E/MIS System.
All components of current organisation and stakeholders' capacity shall be taken into consideration and shall be based on initial assessment and continued assessment. This is to ensure that the training and mentoring program is focused on identified organisation and stakeholders capacity gaps and flexibility of the M&E/MIS implementation while ensuring that organisation's business environment requirements are progressively catered for.
Workshop Objective
After the workshop, participants are expected to be able to commence establishing the policy or applying M&E/MIS System using software tools in their working environment in the organisation, as well as being able to select or create suitable M&E software tools.
Training Programs
6–8 March, Lake Manyara, Tanzania
Revise M&E Framework and Development of M&E/MIS System Performance Indicators
9 March, Serengeti, Tanzania
Revise M&E Framework Development of M&E/MIS System the Performance Indicators
11 March, Kilimanjaro, Tanzania
Revise M&E Framework Development of M&E/MIS System the Performance Indicators
20–24 June, Bangkok, Thailand
M&E/MIS PACPLAN Software Customisation and Training
11–12 July, Lake Manyara, Tanzania
Dissemination of M&E Framework and M&E System, Planning Data Collection
14–16 July, Udzungwan, Tanzania
Dissemination of M&E Framework and M&E System, Planning Data Collection
18–20 July, Mwanza, Tanzania
Dissemination of M&E Framework and M&E System, Planning Data Collection
3–7 October, Mikumi, Tanzania
M&E System, First Quarter Progress Data Collection and Baseline Outcome Data Collection, and System Reporting
12–13 October, Arusha, Tanzania
M&E System, First Quarter Progress Data Collection and Baseline Outcome Data Collection, and System Reporting
5-10 June, Dakar, Senegal
Installation of PACPLAN Web Server software and Desktop software and Capacity Building Workshops with Stake Holders